N° 28 of Dialogue has been published (May 2011)
Presentation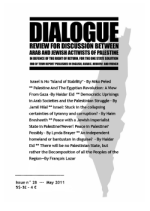 click to download the pdf
This latest issue of Dialogue has come out a bit later than planned, because the including of a discussion on the revolutionary movement and the profound shake-ups in the Arab countries seemed essential to us.
In a call for contributions on the subject, Dialogue sent out the following letter to its correspondents:
The next issue of Dialogue will deal with the relationship between the revolutions and the revolts in the Arab countries and in Palestine. The Middle East peoples' profound aspiration to democracy (which is the same aspiration of all the peoples of the entire world) runs deep in the Palestinian society, deprived of its fundamental rights for over 60 years now. The slogan chanted on the Tahrir Square in Cairo: Camp David Agreements, Occupation Agreements! echo the slogans that can be heard in Ramallah - when they are not being stifled by repression - Oslo Agreements, Occupation Agreements!

The magazine Dialogue , which for 8 years now has been linking the fundamental demand of right to return to the fundamental demand of one single democratic State on the historical land of Palestine, is soliciting your analysis of the situation, your own point of view.
This analysis and the facts presented in this issue of Dialogue, speak for themselves. The profound aspiration of the peoples of the entire world to freedom, equality and simply the right to exist know no borders, no reasons of State, no ideology, no international timetable.
Concerning Palestine, would the real exercise of democracy be compatible with refugee camps, racial segregation and the fragmentation of the country? What is stopping the setting up of one single secular and democratic State on all the historical land of Palestine, within which all components would have the same rights?
This is the discussion that the editors of Dialogue propose to pursue.
The editors.
---
Contents :
p.3

Presentation

p.4

Israel Is No Island of Stability
By Miko Peled

p.6

Palestine And The Egyptian Revolution: A View From Gaza
By Haidar Eid

p.10

p.17

Israel: Stuck in the collapsing certainties of tyranny and corruption?
By Haim Bresheeth

p.21

Peace with a Jewish Imperialist State in Palestine? Never! Peace in Palestine? Possibly
By Linda Brayer.

p.28

An independent homeland or bantustan in disguise?
By Haidar Eid

p.31