N° 31 of Dialogue has been published (June 2012)
Presentation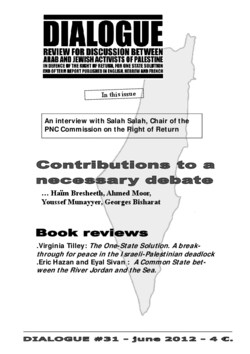 click to download the pdf
The two State solution to the conflict that has been devastating Palestine for several decades is an official solution replying to political necessity. At whatever cost, with one peace plan after another, the UN, successive American governments and in their wake, the European Union have tried in vain to impose a permanent partition of Palestine, i.e. a physical separation of the populations that live between the Mediterranean and the Jordan which entails territorial segregation of Palestinians.
As you can read in the different articles published in this edition of Dialogue, this policy enters into collision with the reality of Zionism that demands exclusively, all the territory of historic Palestine, and only conceives the existence of the Palestinian people as confined behind secure barriers, with no rights, no future.
But for this situation - that has lasted for more than sixty years - to be accepted, the myth of shared responsibilities had to be invented. In this way Israeli intransigence would be explained by the refusal of Palestinians to recognise the very convenient right of the Jews to take their place.
Once again, why couldn't populations of different origins live together with the same rights if it weren't for very material political interests?
To encourage an exchange of dialogue on the basis of facts and arguments is a necessary condition for all democratic advances in this area. Can there be democracy without equal rights in practice and not just formal equal rights in legal terms? Can practical democracy be achieved outside of the framework of a single State in which all components have the same rights? Can this happen without implementing the right to return for Palestinian refugees? These questions are still of extreme importance to-day. We invite our readers to pursue this discussion.
The editors
---
Contents :
p.3

Presentation

p.5

p.7

Appeal : A single secular democratic state in Palestine: A Republic of all its citizens!

p.9

Not All Israeli Citizens Are Equal
by Yousef Munayyer

p.11

One state for Palestinians and Israelis
by Ahmed Moor

p.14

Interview of Salah Salah, Chair of the PNC. Commission on the Right of Return


p.18

Virginia Tilley: The One-State Solution
A breakthrough for peace in the Israeli-Palestinian deadlock (The University of Michigan Press - 2005)
by Sam Ayache

p.26

A One-State Solution for Israel and Palestine
by Georges Bisharat

p.28